BOB ABERNETHY: Finally, midnight Mass this Christmas Eve marked a special occasion for the Catholic Diocese of Altoona-Johnstown in western Pennsylvania. Exactly 200 years ago, a log church in the frontier community of Loretto celebrated its first Catholic mass. The priest who founded that church was a Russian prince turned frontier missionary. Mary Alice Williams tells his story and the story of how Catholicism grew in the U.S. after the Revolutionary War, one priest, one settlement, one parish at a time.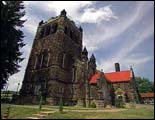 MARY ALICE WILLIAMS: Bells rang out at St. Michael's Basilica this year for Father Demetrius Augustine Gallitzin, and families such as Mary Jane Reig's marked their Catholic heritage with special masses and a pilgrimage through the town that is Gallitzin's legacy to his faith.

Father MICHAEL BECKER (Director of Vocations, St. Michael's Basilica): Lord, have mercy.

WILLIAMS: It's a yearlong celebration for the priest his parishioners knew as the Reverend Mr. Smith, Gallitzin taking the name of Smith because titles and royalties were frowned upon in the fledgling new country. Father Michael Becker is a priest at St. Michael's today.

Father BECKER: When he wanted to build up the Catholic community, "Catholic community" meant more than just church on Sunday. It meant all the facets of community life.

WILLIAMS: Two hundred years ago, he set out into the wilderness that was the Alleghenies of western Pennsylvania.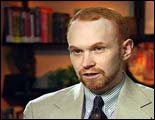 Mr. MATTHEW BUNSON (Catholic Church Historian): When Father Gallitzin arrived in the Alleghenies and he saw the mountains, he knew in his heart that this is where he wanted to serve.

WILLIAMS: He carried a cross, a rucksack, and a missionary's zeal for introducing Catholicism in a new land where religious freedom was still a work in progress. But he was not like the others; Gallitzin was a prince.

Mr. BUNSON: Father Gallitzin was raised in full anticipation of becoming a diplomat, a scientist, and a philosopher, much like his father. He was trained in about seven different languages. He knew how to play the violin. He knew science. He knew astronomy.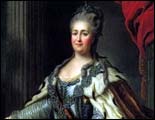 WILLIAMS: His ancestors were among the most renowned in Russian history, ranking with the Romanovs themselves. Betty Seymour is Loretto's town historian.

Ms. BETTY SEYMOUR (Loretto Town Historian): Prince Gallitzin came from, on his father's side, probably the richest family in Russia and the most long-standing. Their roots go back in all of Europe. The family is as prestigious as you could get. Their -- the lands that they owned near Moscow were larger than Pennsylvania. They owned the people, the lands, the factories, everything.

WILLIAMS: His mother raised him. She was the Prussian Countess Von Schmettow, whose rigorous education of her son prepared him for statesmanship and, unintentionally, the priesthood.

Mr. BUNSON: His mother underwent a kind of spiritual transformation around the time that he was 15 or 16. His movement into the Catholic faith was spearheaded by his mother.
WILLIAMS: The prince was on his way to becoming a priest, a conversion that endangered his royally connected family.

Mr. BUNSON: By the law of Russia during the period, any nobleman who became a Catholic was instantly facing severe persecution. Any nobleman who then actually was insane enough, in the Russian eyes, to become a priest was subject to exile and disenfranchisement.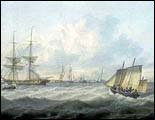 WILLIAMS: A ship named the BRIG JANE brought Gallitzin to Baltimore harbor; it was 1792. In many places in the United States, Catholics were persecuted. In a population of four million, only 48,000 were Catholic, served by 24 priests. All had trained abroad. John Carroll had just become the first bishop of Baltimore, the first diocese. French Silpicians had just entered the nation's first seminary, St. Mary's.

Father BECKER: And Father Gallitzin spent three years of formation there and was the first priest to have been ordained here. So in one sense, he's the firstborn of American priests.

WILLIAMS: Gallitzin found his faith a home in western Pennsylvania. It was called Maguire Settlement. Before he died, he had baptized 3,000 Catholics and converted thousands more. Two hundred years later, the Reig family can trace their heritage back seven generations to the original Maguires.

Ms. MARY JANE REIG: My family has been parishioners here since St. Michael's Church was established. Michael Maguire donated the money for St. Michael's, and my family has been parishioners since that time.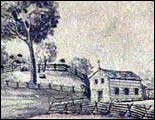 WILLIAMS: Gallitzin built the first St. Michael's, a log church, dedicated on Christmas Eve 1799. The foundation remains as part of the cemetery. Today's building, rebuilt in the 1890s, dominates the landscape in this rural community and reflects the growth of the Catholic faith envisioned by Gallitzin.

Mr. BUNSON: Father Gallitzin understood that the Catholic Church was going to survive in the United States, one soul, one family, one church, and one parish at a time.

WILLIAMS: It's pilgrimage day two centuries later. The faithful walk the streets of the town Gallitzin renamed Loretto after the Marian shrine in Italy. It's part of a yearlong celebration.

Father BECKER: Father Gallitzin had a vision of a Catholic community, a strongly Catholic community where the Catholic faith would be nurtured, where the whole community would have a sense of their being part of the kingdom of God.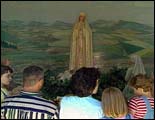 WILLIAMS: Mary Jane Reig and her young family participate at each stop along the way. Within walking distance, a Carmelite monastery, a convent, a Franciscan seminary, and a shrine to Fatima.

Ms. REIG: I think it's exciting to know that my ancestors helped Father Gallitzin develop this community. It's exciting to me to know that I am having children that may stay here and continue.

Unidentified Man: Hail Mary, full of grace. The Lord is with thee.

WILLIAMS: I'm Mary Alice Williams for RELIGION & ETHICS NEWSWEEKLY.