Catholic Register - Biographical Sketch
Apostle of the Alleghenies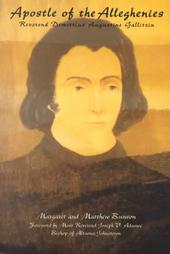 The Life of Demetrius Augustine Gallitzin
By Margaret and Matthew Bunson
The life of Father Demetrius Gallitzin, the Apostle of the Alleghanies, is an inspiring story of sacrifice and devotion during the early years of the growing Catholic Church in the United States. For more than forty years, he devoted his life to the people he served in the Alleghanies and to preaching the Gospel in a young country.
Today, Demetrius Gallitzin is gaining recognition as a pioneering missionary and a prince of pastors. In Apostle of the Alleghanies, the life of this brilliant and prayful priest is told in vivid detail, and the story of his ministry, his brilliant defense of the Catholic Church, and his long years of solitary labor will enlighten, surprise, and even delight the reader.
Margaret and Matthew Bunson are the authors or co-authors of more then thirty books, including Our Sunday Visitor's Encyclopedia of Saints, John Paul II's Book of Saints, and numerous other histories, biographies, and encyclopedias.